Air conditioning units are invaluable, especially during a heatwave. However, during hot months, when we are trying to keep temperatures low, our energy bills might be getting higher and higher. Upgrading to a newer model that is more energy-efficient than those made 10-12 years ago can have a noticeable effect on your energy bills.  At Accurate Heating & Air Conditioning, our HVAC professionals can help you find the best AC unit for your home and air conditioning needs. A new AC system is an investment for years to come. If you're noticing that your system needs frequent AC repairs or is running less efficiently, talk to your local Sonoma County HVAC technicians about the best air conditioning installation options.
Which brand of air conditioner is the best?
When choosing which of the best AC units to upgrade your home with, homeowners have many factors to consider, such as cost, lifespan, warranty, energy efficiency ratings, noise levels, and size. Our company has been in the industry for over 20 years and is an authorized dealer of Bryant and Daikin. The most energy-efficient air conditioners carry a SEER (seasonal energy efficiency rating) of 20-26 but it might not always be the best option. These are often more expensive but save in energy costs. They're a top factor when it comes to choosing an AC system.  Bryant is a well-known and reliable manufacturer of air conditioning units with various affordably priced, quality products to choose from.  They are considered one of the best for performance and quality. 
Bryant Legacy 106A
For example, the Bryant Legacy 106A stands out as a great lower price range system with an above-average SEER rating.  It also comes with a 10-year standard parts limited warranty upon registration within 90 days of purchase and a 5-year warranty if not registered within 90-days.
Seer Rating: up to 16 Compressor Type: Single-Stage Sound Rating (Decibels): as low as 72
Bryant Preferred 127A
The Bryant Preferred 127A is a mid-range AC system with two compressors and high efficiency., It also has enhanced dehumidification great for those summer months.
Seer Rating: up to 17.0 Compressor Type: Two-Stage Sound Rating (Decibels): as low as 72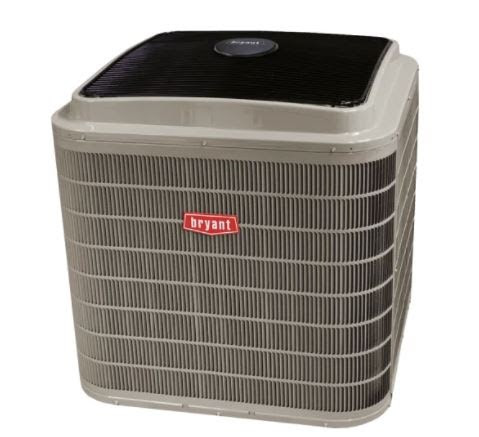 Bryant Evolution 180B
The Bryant Evolution 180B is another great pick with a SEER rating of 21 which makes it highly efficient. These are so reliable they are expected to last 20 years or more with regularly scheduled maintenance.
Seer Rating:
up to 19
Compressor Type:
Two-Stage
Sound Rating (Decibels):
as low as 66
We also work with Daikin, one of the largest manufacturers of heating and cooling equipment globally. As a mid-range brand, they also have affordable, reliable options among their premium and mid-range options. They also offer some of the best warranties around.
Daikin Fit
The Daikin Fit is one of the quietest air conditioners on the market and still provides the same level of quality you expect with efficiency and affordability. For greater comfort backed by a 12-year parts warranty and 12-year unit replacement warranty, consider the Daikin Fit.
Seer Rating: up to 18 Compressor Type: Variable-Speed Swing Sound Rating (Decibels) : as low as 56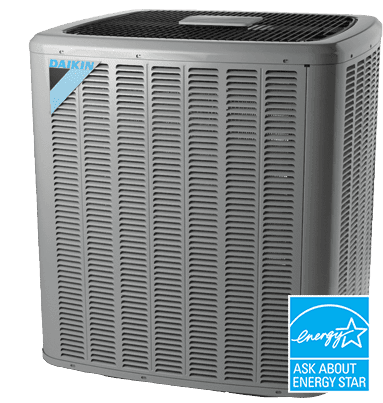 Daikin DX20VC
For a more efficient Daikin system, the DX20VC can reach up to a 24.5 SEER cooling performance. It still operates with very low noise levels which producing consistent cooling.
Seer Rating: up to 24.5 Compressor Type: Variable-Speed Swing Sound Rating (Decibels): as low as 58
Daikin DX14SN
The Daikin DX14SN is one of the more affordable, budget-friendly ACS. For climates where air conditioners don't have to put in as much work, the DX14SN is a great choice. It features a heavy-gauged galvanized-steel cabinet with a louvered sound-control top design.
Seer Rating: up to 15 Compressor Type: Single Stage Sound Rating (Decibels): as low as 71
Which AC is best for home use?
When deciding what AC system to install, your HVAC technician will take note of your home's square footage, the sun exposure during the day, amount of people living in the space, ceiling height, number of windows, location, and more. Depending on your living space, a central air conditioning unit (split or packaged system), a window air conditioner, a portable air conditioner, or a ductless system might be best. For example, for homes where it is hot most of the year, a central air conditioning system is preferred. In contrast, for homes without ductwork, a ductless mini-split AC system is a better option for cost-effectiveness and efficiency.
What is the best AC unit for California?
Our Accurate Heating & Air Conditioning team can repair or replace your current AC unit, keeping your home'sair quality free of pollutants. In California, about two-thirds of homes have air conditioning systems. The type of AC unit best suited for your home can depend on many factors, but having a licensed professional install your new AC system will help save you time and money. Don't compromise on quality, look for authorized dealers that meet the highest standards of service for installation, maintenance, and repair.  If you are looking for AC service in Sonoma County, request an estimate or call (707) 595-0420 today.