home-slide
Welcome to Accurate Heating & Air Conditioning
Honest and Reliable HVAC
in Sonoma County
home-slide
Keeping Santa Rosa Warm and Cozy
Dependable Heating Services
Furnace Repair & Replacement
Hot HVAC Deals
Cool Savings Await!
About Us
Your Trusted Local HVAC Contractor
Located in Santa Rosa, we serve Sonoma, Rohnert Park, Healdsburg, Windsor, Cotati, Petaluma and beyond. We provide commercial and residential HVAC installation, repair, replacement, and tune-up services to keep you comfortable year-round.
Over 20 Years of Experience,
Serving all Sonoma, Marin and Napa Counties
HVAC Repair & Replacement
Expert HVAC Tune-Ups
Heat Pumps & Ductless Systems
Commercial & Residential Installations
Reliable Heating & Cooling Solutions
Services
Heating and AC Installation, Repair & Maintenance in the North Bay
Our Projects
HVAC Repair by Technicians You Can Trust
If you are looking for HVAC repair, look no further. Our team of HVAC technicians has experience working with all kinds of modern HVAC systems and can repair any issue that you throw our way. Common HVAC repair issues include:
Clogged filters

Malfunctioning compressor

Failing pilot light

Cracked heat exchanger

Worn electrical components

Broken blower motor
Whether you have a problem with your AC or furnace, give us a call, and we can help. Even small issues can develop into costly repairs, so address HVAC issues quickly by calling a qualified air conditioning contractor!
HVAC Replacement Santa Rosa
The typical HVAC system lasts about 15 to 20 years, assuming it receives regular service and maintenance. At some point, though, your air conditioner or heating systems will start to wear down. When that happens, it may be time to look into a replacement HVAC system. Our knowledgeable team at Accurate Heating & Air Conditioning can help you choose an HVAC replacement system that meets your needs and budget. We offer a wide range of systems, including traditional central air cooling, heat pumps, and much more.
The North Bay gets some pretty hot summers and chilly winters. As such, you want to make sure your HVAC system functions throughout the entire year. Regular HVAC tune-ups can keep your heating, ventilation, and air conditioning working in optimal condition.
The typical HVAC tune-up involves:
Changing air filters

Checking coolant levels

Inspecting condenser/evaporator coils

Calibrating thermostats

Cleaning drain pans

Inspecting gas lines

Replacing coolant levels

Checking heat exchanger

Cleaning dust and dirt from components
Regular tune-ups not only keep your HVAC system in working order but can also extend its lifespan by up to five years. Routine maintenance can also reduce energy consumption by making sure your HVAC is running efficiently.
Look to the Pros for Air Conditioning Installation
For flawless air conditioning replacement, look no further. Our dedicated air conditioning installers are well-versed in modern cooling technology and installation techniques. Whether it's a compact window AC or a comprehensive central air system, our AC installers handle installations with precision. From securing the right ductwork to ensuring optimal airflow, our AC replacement process guarantees your comfort and peace of mind.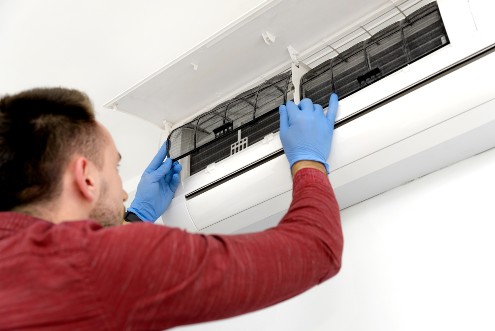 Stay on Top of Problems with Air Conditioning Maintenance
Maintaining your air conditioning system is crucial for optimal performance. Our air conditioning maintenance services ensure your AC runs smoothly year-round. Our comprehensive approach includes:
Regular air filter changes
Inspection of refrigerant levels
Cleaning of condenser coils
Calibration of thermostats
Drain pan cleaning
Examination of electrical connections
By addressing these maintenance tasks, we keep your AC efficient and ready to cool your space effectively.
Time for Furnace Replacement?
As heating systems age, efficiency can decrease, leading to higher energy bills. Our furnace installation services offer you modern, efficient solutions that not only improve your comfort but also contribute to long-term savings. We specialize in seamless furnace and heater installation, ensuring your indoor space remains warm and inviting, no matter how chilly it gets outside.
Let Our Furnace Repair Technicians Help
When your furnace encounters issues, our dependable heater repair services are your solution. Our skilled technicians handle a range of problems, including:
Ignition system malfunctions
Blower motor failures
Pilot light issues
We arrive promptly to diagnose and fix the problem, restoring warmth and comfort to your home swiftly.
Contact Us Today for Quick and Reliable Air Conditioning and Heating Services
Many homeowners neglect their HVAC until a problem arises. It's in your best interest to stay on top of HVAC maintenance in case emergency strikes. For HVAC services in Santa Rosa, Sonoma County, Rohnert Park, Healdsburg, Accurate Heating & Air Conditioning should be your first choice! Give us a call at (707) 595-0420 to schedule your appointment. At Accurate Heating & Air Conditioning, your comfort is our business.
Check Out Our Current Specials
$30.00
Off Any Repair $350 or more
May only use one coupon ver visit
$89.00
Furnace Tune up Special
May only use one coupon ver visit
Our Testimonial
Customer Feedback
"Daryl Erckenbrack, the owner of this business is one of the most thorough, professional and respectful heating and cooling experts you will ever have the pleasure of working with. If you want the best for your home and intend on keeping it, and don't want a cookie-cutter big firm, this is the guy.
Absolutely went the extra mile and then some to explain how our new furnace would work, why we needed what and with a no-nonsense approach, explained all our best options. His quote was tip-top and included meaningful details that the other guys never even mentioned.
If you want a thorough, honest, nice, and professional local person who clearly loves his business, Daryl is your man. Highly recommended by myself and my wife, home owners for 37 years."
"Daryl from Accurate Heating came recommended by a contractor when we began researching heating options for our home in the Russian River area.
Our home is older and had several challenges. After interviewing several heating companies in the area, Daryl was by far the most personable and knowledgable about which systems would benefit us within our budget.
When we agreed on a ductless system, Daryl filed the permits and took great care to install the units in places that were most efficient and least obtrusive.
We are one month into winter with our new Mitsubishi system and couldn't be more pleased. It's night and day.
Thank you, Daryl!"
Daryl, the Owner of Accurate Heating and Air Conditioning is a true pro! He came out immediately, determined the system needed to be replaced and took the steps to get the necessary equipment ordered. He went through several hurdles with our Home Warranty Company as well but remained persistent.
On top of this all, he seriously injured his hand which could have delayed the repair and replacement for weeks. Instead he was delayed a couple of days, came out to install the new system with his assistant and we were up & running. He shows true concern for his customers and does a very professional job.
I would use him over and over and plan to recommend him to anyone needing HVAC work.
Thank you Daryl!!
Daryl, the owner of Accurate Heating and Air Conditioning, was selected by our Home Warranty company to provide an estimate to replace our heating and air conditioning system. He provided a fair and reasonable estimate and was selected by our insurance company to do the work.
I couldn't have been more pleased. Daryl, was professional, considerate, and kept us in the loop the entire time. I would recommend Daryl to anyone who wants or needs a new HVAC system or repair. Great guy!
Thanks, Daryl.